Its location on the banks of the river Rhine allowed Utrecht to become an important trade center in the Northern Netherlands. The growing town Utrecht was granted city rights by Henry V in 1122. When the main flow of the Rhine moved south, the old bed which still flowed through the heart of the town became ever more canalized; and the wharf system was built as an inner-city harbor system.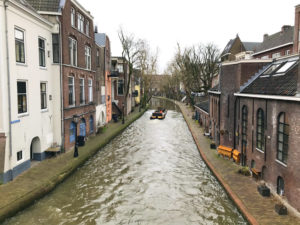 On the wharves, storage facilities (werfkelders) were built, on top of which the main street, including houses, was constructed. The wharfs and the cellars are accessible from a platform at water level with stairs descending from the street level to form a unique structure. The relations between the bishop, who controlled many lands outside of the city, and the citizens of Utrecht was not always easy. The bishop, for example, dammed the Kromme Rijn at Wijk bij Duurstede to protect his estates from flooding. This threatened shipping for the city and led the city of Utrecht to commission a canal to ensure access to the town for shipping trade: the Vaartse Rijn, connecting Utrecht to the Hollandse IJssel at IJsselstein.
In the early 19th century, the role of Utrecht as a fortified town had become obsolete. The fortifications of the Nieuwe Hollandse Waterlinie were moved east of Utrecht. The town walls could now be demolished to allow for expansion. The moats remained intact and formed an important feature of the Zocher plantsoen, an English style landscape park that remains largely intact today. Growth of the city increased when, in 1843, a railway connecting Utrecht to Amsterdam was opened. After that, Utrecht gradually became the main hub of the Dutch railway network. With the industrial revolution finally gathering speed in the Netherlands and the ramparts taken down, Utrecht began to grow far beyond its medieval center. When the Dutch government allowed the bishopric of Utrecht to be reinstated by Rome in 1853, Utrecht became the center of Dutch Catholicism once more.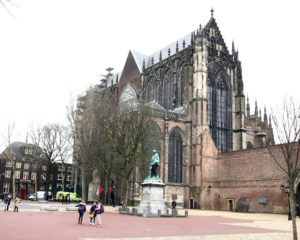 From the 1880s onward, neighborhoods such as Oudwijk, Wittevrouwen, Vogelenbuurt to the East, and Lombok to the West were developed. New middle-class residential areas, such as Tuindorp and Oog in Al, were built in the 1920s and 1930s. During this period, several Jugendstil houses and office buildings were built, followed by Rietveld who built the Rietveld Schröder House (1924), and Dudok's construction of the city theater (1941).