Dear (future) tenants,
We would like to give you some information to make your stay in our apartment or studio and living in Utrecht more enjoyable the topics concern;
the environment
the trash disposal
places of interest
transportation
contacts
We hope this information will be to your benefit. If you have other questions or concerns, please let us know.

Environment:
Of course, we're all concerned about the climate change, but we think that is not the o
Of course, we're all concerned about climate change, but we think this is not the only reason for taking care of our environment and the use of its recourses. We do our part in making the living spaces as sustainable as possible.
Some houses already have solar panels installed and there are properties that are heated with genuine "city heat", a communal system. Most of our properties are located in historic buildings, these were built at a time when energy use was no issue. We are renovating the properties to better the insolation of heat and sound.
We hope that you will help us in reducing the energy consumption where possible by putting out all the lights and turning down the heat when you leave the apartment. We strongly suggest you will do so, at leaving for several days (like a vacation or business trip) but it also helps if you will do so before going to work in the morning.
The apartments heat-up quite quickly when you turn up the heat at arrival. Some of the apartments are equipped with timer thermostats (please ask your agent if that applies to your apartment) which can be programmed to your daily routine.
Although there is a slow transformation to renewable energy sources the main energy source used to heat buildings in the Netherlands is still natural gas. So please keep an eye on the room temperature of your apartment and adjust it to your needs and keep the waste of natural recourses to a minimum.
Trash disposal:
For the collecting of your main (or rest, please see below for paper, glass and plastics recycling) trash the city of Utrecht uses a periodical pickup system. At the inner city, the trash will be collected from the curb in the street at given days in the week. The day(s) and time when the trash is collected depends (please ask your agent what applies to your apartment) in your area.
Standard procedure is to put your garbage bag(s)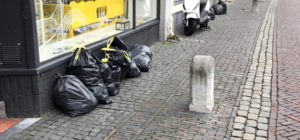 (a gray plastic bag filled to a max weight of 7kg) outside on the sidewalk (at easy access for the collectors) no later than 8:00 a.m. the day of the pickup. It's allowed to put the bag outside the previous day from 9:30 pm onwards, but to avoid littering, we advise to do it in the early morning. More information can be found at https://www.mijnafvalwijzer.nl
For recycle purposes the city of Utrecht has
placed recycle stations at convenient points across the city, all places are easily accessible and usually located (please ask your agent for the location) near parking spots.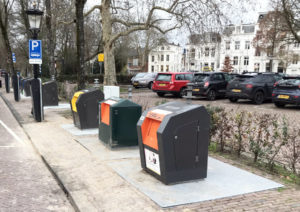 Recycling stations have containers for glass, paper, plastics and sometimes clothing. We would really like to encourage you to use these recycling stations, not only to promote renewability but also to reduce the amount of rest garbage that will be burned at the disposal side.
For larger amounts and for big items like furniture the city has a facility where you can drop off your goods, for the inner city the location on "Tractieweg 1203534 AP Utrecht" or "Zwarte Woud 2503524 SL Utrecht" (note: take you ID and rental agreement, sometimes they ask for it) are most convenient. They also have a pick-up service that you can find here: https://pki.utrecht.nl/Loket/prodcat/products/getProductDetailsAction.do?id=962(sorry in Dutch only) where you can make an appointment so the items will be picked up outside your door.
Places of interest:
As you can read in the topic "little history of Utrecht" the city was founded centuries ago. The large number of historic buildings within the city center (also some further out) is a clear reminder of that. If you look more closely, you can often find a date of construction and/or a name on the different buildings. In the summertime there is a walking-city-tour every Saturday morning, starting at the foot of the Dom tower (free of charge). But of course, you can wander around the city yourself and see several historical sites, Utrecht has a relatively small inner city without "no-go" zones (but do be smart and keep in mind you are in a city).
This is a handy tool to find opening hours and locations of services and shops by category, https://www.openingstijden.nl/Utrecht/Utrecht/
The inner city holds a variety of restaurants and bars with different origins, from formal to casual and modern to classic.
Aside from night-live, the city also harbors cultural locations like museums (https://www.centraalmuseum.nl/nl– https://www.catharijneconvent.nl– https://www.rietveldschroderhuis.nl/enand more) also mentioned in "little history of Utrecht" at this site the Music Center with the original Vredenburg and Tivoli concert and rock and jazz halls brought together in a single building (https://www.tivolivredenburg.nl).
Transportation:
As you probably will soon realize when you come to Utrecht: the main means of transportation is the bicycle. Although the infrastructure of the inner city is focused on cyclers and public busses,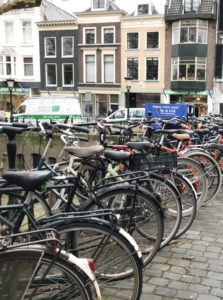 we recommend taking it slow until you feel fully comfortable with the way people drive. There are a few options on getting a bike, besides short-term rental or buying a bike (both can be done at almost any bike shop in town) there are also options to lease a bike like https://swapfiets.nl/or you can join the NS (national public transporter) with an "OV-chipkaart" (https://www.ov-chipkaart.nl/home-1.htm#/) which you need for public transport and add the "OV-fiets" (https://www.ns.nl/en/door-to-door/ov-fiets) that have pick-up and drop-off hubs across the city's and train stations in the Netherlands.
As mentioned, to use public transport (regularly) its best to get an "OV-chipkaart" please see https://www.ov-chipkaart.nl/home-1.htm#/for more details.
Basically there are two card options: one is anonymously this card needs to be charged with credit before you can travel, another option is a personal card that's linked to your bank account and your name (only with this card you can make use of all services provided by the NS) the cost of your travel will be checked to your account automatically. The most important thing to remember when using the chip-card is checking in and out at the right place.
parking spaces are very limited and most apartments have no private parking. Depending on the area you live in (please ask your agent what applies to your apartment and/or find a link to the current situation here: https://www.utrecht.nl/wonen-en-leven/parkeren/parkeren-bewoner/wachtlijst-parkeervergunning/) the city has a waiting list for parking permits. Paid parking on the street is possible but expensive. Outside the city center, you can find a few free parking zones(note: not all very safe) and there are also a few parking garages called "transferium" (please see: https://www.parkeren-utrecht.nl/prfor more info) with transportation to and from the city center.
Contacts:
Emergency: